About Franke James
by Franke James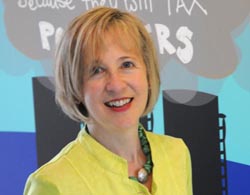 Franke James merges science, art and storytelling to inspire people to take action and "do the hardest thing first" for the planet. She is an author, artist and game designer focused on the environment, ethics and social justice. Her most recent interactive quiz "How many climate deniers could you fight off?" combines humour, art, politics and science to provoke players to take action and stand up for the planet. Franke is the author of two award-winning books, Bothered By My Green Conscience and Dear Office-Politics.
Franke contributes articles to various magazines including DeSmogBlog, Corporate Knights Magazine, Grist, ThinkProgress, and YES! Magazine.
"Franke James is among the tiny handful of really powerful and profound artists who have taken on climate change – the most important topic on the planet, but one so big and all-encompassing that it often defies artistic interpretation. Her work is incredibly important for many of us around the world." ~ Bill McKibben, Founder 350.org

"Franke James' work is honest, powerful and funny. She has a rare ability to sweep past the polarization and complexity of critical issues and shine a stark spotlight without over simplifying. Her work is not be missed by anyone interested in climate change or the future of Canada!" ~ Tzeporah Berman, Author and Co-founder ForestEthics
Franke has delivered keynotes and workshops in Toronto, Colorado, Ottawa, Northern Ontario, Cincinnati, Maine, the Ontario Teachers Federation climate change camps, the Ontario Government, and others. (See her Speaking page for more details.)
Canada's First Crowd-funded ArtShow On Outdoor Ads Protests Climate Artist's Censorship
On November 2, 2011, Franke opened her "Banned on the Hill" artshow to protest the Harper Government's censorship of her artwork, and the muzzling of environmental scientists. Her poster artshow in Ottawa was strategically located around the corner from the Parliament Buildings. Using outdoor ad media financed with crowdfunding, Franke was able to shine a bright light on the silencing of environmental voices. See Franke's Blacklisting index for related videos, articles and access to information documents.
Franke made news headlines for her environmental actions by successfully winning permission from Toronto City Hall for the right to build a green driveway. Her work has been featured on the CBC National News, CBC Radio, Grist, Change.org, 350.org, Treehugger, YES! Magazine, Gopher Illustrated Magazine, The Toronto Star, National Post, Montreal Gazette, Times-Colonist, Ottawa Citizen, Worldchanging, and in numerous blogs. Her story A Green Winter was part of an anthology entitled Perspectives on Contemporary Issues that included stories from Stephen Lewis, Margaret Atwood, and David Suzuki. Franke produced A Green Winter as an animated short. It was screened at the 2007 Green Living Show between appearances by Al Gore and Robert Kennedy, Jr.
Franke has a Masters in Fine Arts from the University of Victoria, and a Bachelor of Fine Arts from Mount Allison University. She is a Member of the Writer's Union of Canada, CARFAC Ontario, and PEN Canada. Throughout her artistic career she has received awards and support from Canadian institutions including Telefilm Canada, the Canada Council, the Ontario Arts Council, the Ontario Media Development Corporation, the Banff Centre, the Gairdner Foundation, Mount Allison University, the University of Victoria and others. She now lives in Toronto where her favorite mode of transportation is walking.
Contact Franke James:
You can see the latest reviews and interviews about Franke's book here: Reviews and Interviews: Bothered by My Green Conscience. Reviews and interviews about her visual essays are listed below.
More Support for Franke James
"Artistic communicator par excellence, Franke James is a Canadian visionary and master of inspiration for lighting the passions around the epochal realms of our time. Her visual essays brilliantly pare the broad complexities of climate change down to a human scale narrative that resonates with the Canadian public."  Toby A. A. Heaps,  Editor-in-Chief, Corporate Knights Magazine

"The words 'visual artist' do too little justice to Franke James. She is a commentator and educator, an entertainer and provocateur. Her thoughtful and thought-provoking work is whimsical, accessible and resolutely non-confrontational – sometimes indignant, but never impolite. Franke can't make me feel better about climate change, but she's one of the few people around who gives me hope."  ~ Richard Littlemore, co-author of Climate Cover-up: The Crusade to Deny Global Warming

"Franke James is a unique asset to the climate movement: a fearless artist whose work simultaneously bursts with joyfulness and hard-hitting rationale about the current crisis to our planet. Without fail, after reading one of her visual essays, I'm always freshly motivated to address these challenges head-on." ~ Jess Leber, Environment Editor, Change.org

"Franke James is a Canadian treasure whose art has helped to explain the global climate crisis in understandable and even humorous ways. She is meticulous about the facts and substance, but her voice is eminently refreshing and approachable. I love her art, and that she uses it for story-telling to raise awareness of humankind's urgent challenge." ~ Michael Noble, Fresh Energy

"Franke James' artwork is a vital and beautiful tool to awaken greater consciousness and action on the part of people all over the world to confront our greatest challenge: climate change." ~ May Boeve, Executive Director, 350.org

"Franke James has an extraordinary talent for mixing engaging stories and the latest science to make action-provoking climate art.  Naturally, it has been a pleasure to work with Franke and Bill James on the CO2 Toaster website widget that has helped get the attention of hundreds of thousands of people to think more about humanity's single most important environmental data."  ~ Michael McGee, Creator of Earth's CO2 Home Page

"Our climate experts are desperate to explain their science in a way that promotes action. So are environmentalists, social justice activists, and intellectuals of all stripe. Franke James just might have the key. Her visual essays make detailed, sound arguments, but they are delivered in a way that lets people hear. She eschews polemics, admits her own uncertainties, and draws everyone into the circle of change. Here's one voice I'd like the whole world to hear." ~ Cathryn Wellner, This Gives Me Hope

"I have long been a fan of Franke James' unique brand of storytelling – so much so that I've borrowed from one of her best – Paradise Unpaved – and made it a centerpiece of more than 30 presentations on environmental leadership I have made to more than 4,500 people from across Canada. Her story of taking on City Hall for the right to build a green driveway is exceptional for its ability to engage diverse audiences on a very sensitive matter. Her literally "grassroots" activism gets people thinking how each of us contribute to the environmental challenges we face, and also to the solutions – and for doing so in a way that is empowering." ~ David Noble, Principal, 2degreesC

Brazilian Newspaper, O Estado de S. Paulo, Features Franke James

The double-page color spread featured six artworks by Franke James, plus a photo.

"Our daily newspaper,O Estado de S. Paulo, in São Paulo, Brazil, is working on a story about guilt and global warming. In fact, it's about the actions that we try to do in order to "minimize" or "neutralize" our guilty conscience"

See: Do Brazilians have a Green Conscience? And will it motivate them to take action? with more information and links to Karina's articles in Portuguese.

"Franke James shows us the importance of storytelling in creating new and productive conversations about pressing issues. The goal that all the climate change activists are pursuing is not to freak people out, but the message is often lost because news about planetary sized emergencies tend to overwhelm people and paralyze them… So kudos to Franke James for putting her talent to work and reminding us that we are all part of a movement towards a green future, one that doesn't put our health and well being at stake. The power of individual action is the only way to move crowds, to create demand for better alternatives and incite companies in moving into new niches." ~ Nicolas Parson

Read Nicolas Parson's article from Business Ecology Paradox: A Breath of Fresh Air from the Usual Doom and Gloom



GopherIllustrated, a Venezuelan magazine that defines itself as "a collectible in motion," interviewed Franke in June 2010, and featured her visual essay, No One Will Know, Except You.

"Posting about climate change and a green conscience may strike some as preachy, and we at the Gopher have to confess a great deal of pickiness when it comes to reading up on it… Franke James is the opposite of preachy. She is the fairy godmother of green conscience, a concerned citizen and a terrifically talented storyteller. Today Franke lets us post some of her work (scroll down to read "No one will know, except you") and answers some of our questions."

Read the feature article by Michu Benaim.

CBC does "Dinner with a Stranger"

CBC television's The National and CBC radio's The Spark shared Franke's story of "Dinner with a Stranger" with their audiences.
CBC National:  "Stranger for Christmas" by CBC video-journalist, Peter Wall.
Watch CBC video
CBC Radio: "Dinner with a Stranger" with Spark host, Nora Young.
Listen to show
Franke's post about CBC coverage:
Just look where "Dinner with a Stranger" has led…

(Original visual essay: Dinner with a Stranger)

By Kevin Buckland


"No doubt about it, we've got our work cut out for us with Climate Change. We've got a problem on our hands the size of our planet. Luckily, that planet is full of smart and dedicated people using their unique skills to make a difference. One of those people is artist and storyteller Franke James. To deal with such unprecedented problems, Franke has set about developing a new way of communication using her online Visual Stories. These wonderful tales read like the great illuminated manuscripts of the past, filling the meaning of their words with powerful images. Franke uses her skills as illustrator, writer, photographer and communicator to turn her personal experiences into a platform to address global issues. From selling her SUV to dyeing her hair, James turns her personal process into readable and accessible anecdotes. Best of all! She is now our most visual advocate for 350, and composed this visual feast to spread the word! In part 3 of her essay, Taking Action for 350, she speaks beautifully (literally – look at her images) about the campaign and the ways we all can make a difference. Still wondering what your doing on October 24th? Join Franke's Freeze to Protest Climate Inaction campaign, and organize a freeze flash-mob!"

Green Living Magazine

"Franke James is using her creativity to tackle climate change—armed with a paintbrush and a vivid imagination—and having dazzling results."

Franke James, artist, author and speaker, is profiled in the Fall 2009 issue of Green Living Magazine. The issue urges Canadians "to take a stand" and challenges them to become greener citizens. Read more…

By co-author John David Mann

"'We teach our kids not to talk to strangers. But some of our best conversations have been with strangers.' So says The Stranger, in this charming pictorial-adventure-diary from Franke James, Toronto-based founder and editor of the blog Office-Politics®. Last August Franke wrote an extremely engaging and thoughtful piece about The Go-Giver (she even posted her own go-givers list of forty-five specific people). Franke just shared a remarkable story with us that seemed so go-giverish, we had to share it with you…." Read more…

"Imagine that a total stranger sends you an email inviting himself and a friend over to your place for dinner, in exchange for which he'd contribute $200 to charity. Would you say yes, prepare a meal and see what's in store? That is exactly what local artist Franke James (of un-paving paradise fame) did, and now she's trying to get the idea to spread. Franke's latest visual essay chronicles the experience, from the initial email appearing in her inbox to its almost magical conclusion. And now, in the comments, we've already heard from The Stranger's mom and the Yonge Street Mission – Franke's charity of choice – and now Franke and The Stranger are sharing ideas of how to expand upon this concept as a larger-scale fundraiser. I had a little chat with Franke about what was on her mind hosting this dinner, and what's on her mind now…" read more

In her most recent blog [visual essay] she takes on the Prime Minister in a way that only Franke could. The essay, entitled Dear Prime Minister, "You say a pollution tax would wreak havoc on our economy", touches on a number of major issues facing Canadians today. The essay by no means tells you who to vote for, but it will make you think! And that's the point, especially during this election and especially in these hard times. Climate change is a reality, period! And as Franke notes in her essay, why are we being forced to choose between the economy and the environment? We tend to forget that without an environment we would not have an economy, as everything we consume and I mean everything comes from our environment. read more

"Back in July we posted a story about a North York woman who had torn up her driveway and replaced it with a much more eco-friendly alternative. All the while she chronicled her adventures in a great photo essay called Paradise Unpaved. Well, now Franke James is at it again. But this time she has a photo essay of the recent propane explosion. It's called 12,000 sitting ducks." Read more…

"Franke James likes doing the hard things first, which is why, when it came to reducing her carbon footprint, she skipped right past the programmable thermostat and coffee thermos business and headed straight for the real green challenge — selling her SUV and replacing the driveway with a garden… Read more…" See as newspaper pdf.

Whack the PM is a non-partisan and spectacularly satirical election website that lets you beat the crap out of the party leaders in an effort to predict the next Prime Minister of Canada. In this game where winning means you'll lose, candidates are hoping to come out unscathed after participants answer hot topic questions by whacking a party leader on the head… Plus this will likely be the first – and last – time you see any of the candidates rubbing shoulders in a single hot tub… Whack the PM is the product of the artistically minded James Gang, including Franke James of green driveway fame. It's also not entirely satire… You'll have to excuse me now as I go back to whacking Mr. Harper. Read more…

"I was first introduced to Canadian visual artist Franke James' work via a link from Max Gladwell, a site that explores social media and green living. Ms. James, who describes her visual essays as "a freewheeling mix of illustrations, photographs and hand-drawn text," sits squarely at the intersection of these two spaces…Read More…"

"Local artist and eco-minded citizen Franke James decided to do the hard thing first and replace her interlocking brick front yard (parking lot) with plants and an eco driveway (paradise). What she didn't expect was a North York demand for concrete, asphalt or interlocking driveways. But, with persistence, she made one of the city's greenest front yards a reality… Read more…"

"A year ago we recounted how artist Franke James gave up her SUV and then decided to rip up her driveway, except the law said that every house had to have a driveway paved with concrete, asphalt or brick. Even porous pavers like turfstone were illegal. Franke took her case (and a printout of TreeHugger) to City Hall and won; now she tells her story in her wonderful mix of humour, drawing and photography…" Read more…

Treehugger.com 2009: Bothered By My Green Conscience by Franke James
Treehugger.com 2008:Paradise Unpaved: Franke James' Driveway One Year Later
Treehugger.com 2007: Franke James on Global Warming in Canada
Treehugger.com 2007 : Selling the SUV: Do the Hardest Things First
Treehugger.com 2007: Don't Rip Up Your Driveway in North York

Franke is Inventive:

Franke is the inventor of an ethical dilemma-based game: Dear Office-Politics, the game everyone plays. The game launched in 2004 and has recently been published as a game & book. The dilemmas are based on letters submitted to the Office-Politics.com web site from 2002 to 2007. It has found a special niche in the training market, and won positive reviews from organizations as diverse as Unicef and the US Army. Feedback from players has been excellent and demonstrates that it can be a useful tool in bringing office politics problems into the open. The game is useful for team building, enhancing communication, exercising ethical muscles, raising awareness, and understanding culture and fit.

Franke's fascination with psychology is reflected in the online games and quizzes which she has co-created with James Gang co-founder Bill James. They include The Room [Umbra], The Love Quiz, The Looking Glass, Office-Politics [Online Contest], Whack the Mayor, and Whack the PM (2004, 2006, 2008). Their joint work has been featured on AOL, USA Today, Yahoo, iVillage.com as well as in many publications, including Rockport Publishing's "The Best Work from the Web."

The James Gang's satirical humour grabbed headlines during the three Canadian Federal Elections in 2008, 2006, and 2004. The Whack the PM online game drew more than 33,000 visitors to the site. The Toronto Star, National Post, CBC Radio, CTV News, Global TV News, CH TV News, CKOM Saskatoon, 610 CKV, QR77 Calgary Today, London Free Press, the McLuhan Foundation blog plus numerous online sources, also covered the 'whacky' story.

More about Franke James and The James Gang

Editorial and Advertising clients have included Resolute Funds Limited, Roots Canada, Umbra, iVillage, Sony Music Canada, MICA Management Resources (Tom Peters, Stephen Covey), Dr. Edward de Bono, Dr. Marty Seldman, Upper Canada College, Stella Artois, Monster, TELUS, Algorithmics, Changepoint, Moveable Type and the Ontario Government among others.

Franke has presented at events and conferences including the McMichael Gallery, the Ontario Science Centre, Sheridan College, CUTC, NMBA, Flashforward San Francisco, Flashforward New York, and the World Animation Celebration, Hollywood and has acted as a Judge for the Flashforward Film Festival and Marketing Magazine's Digital Awards.

As Co-founder of The James Gang, her strategic insights and creative flair have helped clients such as Air Quality Ontario deliver environmental and health messages in an entertaining and persuasive way. Her interactive artwork has won numerous awards and been featured on CBC, CTV, Global News, iVillage, USA Today, AOL, Yahoo and others.

Franke has presented at software conferences in Los Angeles, San Francisco, New York and Toronto on the topic of creativity and how to license intellectual property. Visit The James Gang to find out more, or contact Franke.

Contact Franke James: