---
2014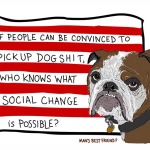 The Real Poop on Social Change
October 9, 2014: Victoria, BC
Art Show Opening – Join us for the exhibition opening of "Franke James: The Real Poop on Social Change" at The Dock. Meet the artist, author and activist, Franke James on Thursday, October 9, 2014 from 4:30pm to 7:00pm. Franke will be joined by Charlotte Kingston, BC Civil Liberties Association, Carol Linnitt, DeSmog Canada, and Dr. Thomas F. Pedersen, The Pacific Institute for Climate Solutions in saying a few words about the power of art to accelerate positive change — and why we need to vigorously protect our Charter right to free expression.
"The BCCLA was thrilled to honour Franke James with our 2014 Liberty Award for Excellence in the Arts. In the face of ongoing attempts to censor her message, Franke's work challenges Canada to do better, and reminds us why it is so critical that free expression be protected." Charlotte Kingston, Engagement Manager, BC Civil Liberties Association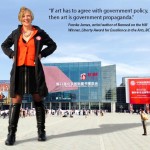 Wowee! Banned on the Hill Goes to Beijing!
August 28, 2014, Beijing, China (PRWEB) Media release
'Banned on the Hill' showcased at the Beijing International Book Fair as a Foreword Reviews' IndieFab Book of the Year Award Winner.
"When Canadian bureaucrats worked behind-the-scenes to silence artist Franke James, they could not have foreseen that their actions would be documented, illustrated and skewered in an award-winning, tell-all book, Banned on the Hill: A True Story about Dirty Oil and Government Censorship. And they certainly didn't expect that their secret techniques would be showcased at the 2014 Beijing International Book Fair, the largest publishing industry event in the Asian Market." Link: Book Fair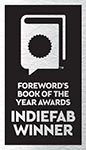 Banned on the Hill Wins Silver Award, Foreword Reviews' IndieFab Book of the Year Award, Category: Ecology and Environment.
June 27, 2014, Las Vegas, NV: The Foreword Reviews' IndieFab Book of the Year Awards, judged by a select group of librarians and booksellers from around the country, were announced this evening at the American Library Association Annual Conference in Las Vegas. Representing hundreds of independent and university presses of all sizes, IndieFab winners were selected after months of editorial deliberation over more than 1,500 entries in 60 categories. Foreword's IndieFab Book of the Year Awards program was created to discover distinctive books from the indie publishing community across a number of genres. What sets the awards apart is that final selections are made by real judges—working librarians and booksellers—based on their experience with patrons and customers. Link: Foreword Award

Franke James Wins BC Civil Liberties Award
June 19, 2014, Vancouver, BC: "Franke James is the recipient of this year's Excellence in the Arts award. Franke has spent years producing original artwork inspired by social and environmental justice. Franke's artwork and books span print, TV, radio, and online mediums in Canada, the USA, and many other parts of the world. Outspoken on environmental issues, her works have come into conflict with the federal government – leading to the cancellation of her 20-city European art exhibition because of government interference from high-level bureaucrats. Her experiences as an artist facing muzzling and censorship by the federal government led to the publishing of her third book, Banned on the Hill, which chronicles her experience with free expression through eight "visual essays". Her focus on environmental and social justice, and her fight for free expression, are a few of the reasons she is this year's recipient." Link: BCCLA award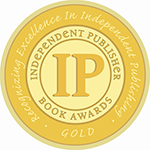 True-Life Story about Government Censorship and Dirty Oil wins Gold Canadian's non-fiction graphic book about dirty oil and Canada's censorship wins Gold IPPY Award in New York.
May 28, 2014, New York, NY: Author and Artist Franke James commented, "This Gold IPPY Award for Banned on the Hill is a sweet victory for me, for democracy, and for environmental voices everywhere. And it's a blow against those high up in the Canadian government who are trying to silence and suppress environmental voices. It's proof that censorship does not work — especially if you can wield a paint brush and leverage social media to gain supporters from around the world. Link: IPPY Award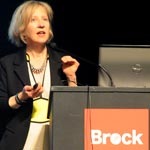 May 27, 2014, Niagara Falls, Ontario: Franke James gives a talk, "Three Warning Signs that Democracy is at Risk In Canada" at the Congress 2014 of The Humanities and Social Sciences, at Eroding democracy: Canada's public science policy in a new regime of governance at Brock University.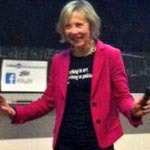 May 9, 2014, Toronto, Ontario: Franke James is a keynote speaker at OSEE conference at the University of Toronto, Mississauga Campus.
February 6, 2014, Washington, DC: Franke James speaks on a panel at the Corcoran Gallery of Art and presents her story What Can Anybody tell Obama about the Keystone XL? She delivered a copy to the CEQ, Council on Environmental Quality at the Whitehouse on February 7th. See post.
February 1, 2014, Guelph, Ontario: Franke James speaks at the University of Guelph and exhibits her Oh No Canada! posters.
2013
'Banned on the Hill' Makes Headlines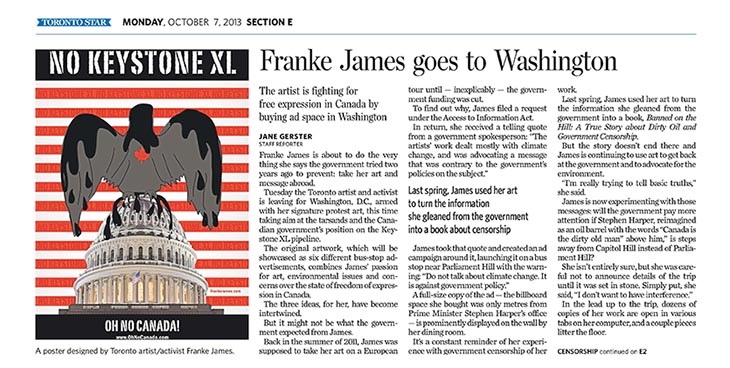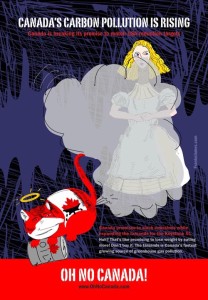 TORONTO STAR Franke James Goes To Washington: By Jane Gerster
Toronto activist Franke James takes protest art to Capitol Hill: "Franke James is about to do the very thing she says the government tried two years ago to prevent: take her art and message abroad.
Tuesday the Toronto artist and activist is leaving for Washington, D.C., armed with her signature protest art, this time taking aim at the Tar Sands and the Canadian government's position on the Keystone XL pipeline.
The original artwork, which will be showcased as six different bus-stop advertisements, combines James' passion for art, environmental issues and concerns over the state of freedom of expression in Canada.
The three ideas, for her, have become intertwined." (See also: OhNoCanada.com)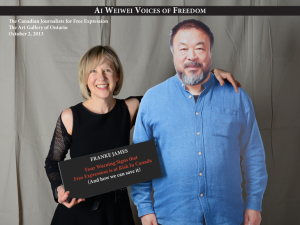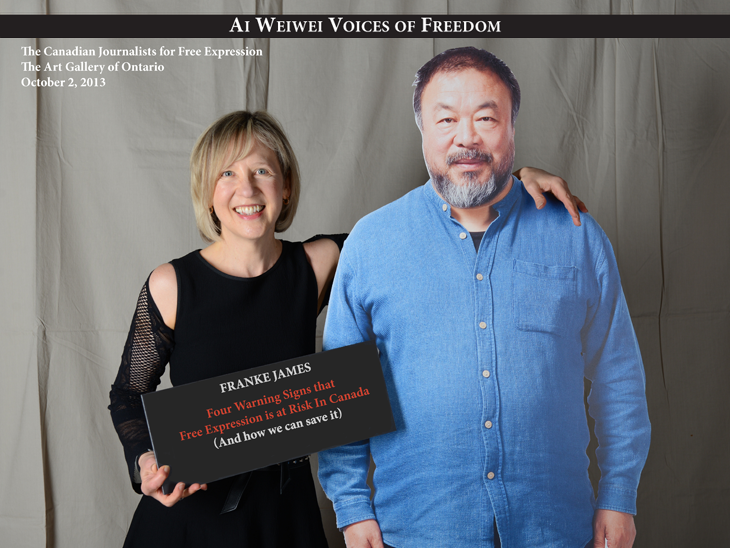 AGO & CANADIAN JOURNALISTS FOR FREE EXPRESSION: 4 Warning Signs that Free Expression is at Risk In Canada
Ai Weiwei: Voices of Freedom: Franke James presents her 4 Warning Signs that Free Expression is at Risk In Canada. "If art has to agree with government policies, then art is government propaganda"
DALHOUSIE Painting a picture of dissent ESS Lecture Series kicked off by Franke James
"Making Harper's blacklist is something I never dreamed of, but I've got lots of company," she says.
Last Thursday marked the beginning of this fall's series of weekly Environment, Sustainability and Society Lectures, hosted by the College of Sustainability. The series brings people of differing views on current environmental issues to speak with students, faculty and the public. The series kicked off with author and artist James, described by College Director Steve Mannell as "the one woman the government can't shut up." (Her lecture was co-sponsored by the Dalhousie Art Gallery.)"
Link to article. See also, "Banned on the Hill" Goes to Halifax!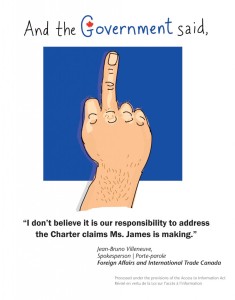 BROKEN PENCIL: Art Under Harper Interview with artist Franke James, playwright Michael Healey, and Charles Foran PEN Canada.
"Franke James never thought she was on the government's radar. Sure, she's depicted Prime Minister Stephen Harper as a yellow-eyed devil, ("Fat Cat Canada's Giant Litter Box," 2009), frothing tar at the mouth, bobbing down the Athabasca River in an oil drum ("Hey Prime Minister" 2012) and hot-tubbing shirtless in an interactive "Whack the PM" game (Whackthepm.ca, 2008); still, as an independent artist, she's never relied on funding from the federal government, and Canada is one of those countries that allows that sort of truth-to-power cheek, right? Not always …
RABBLE: Franke James: Artist and activist extraordinaire! By Christopher Majka; "Franke James is a Canadian political and artistic phenomenon. A wicked thorn in the side of Stephen Harper; a woman fiercely passionate about the pressing need to address climate change; a witty and imaginative artist who would not acquiesce to having her work silenced and censored by the Harper government; and an activist and educator working to empower citizens and galvanize progressive change in our society…"
DOGWOOD Blacklisted Activist Fights Back With Chilling Censorship Story Canadian author and artist Franke James's first-hand account of the federal government's successful attempt to block her international art show …
DESMOG Canada Artist Franke James Live and (Actually) Uncensored (Since, Apparently, She Refuses to Be) Interview with Franke James:
"Who would ever think you could get into trouble for writing to the Prime Minister asking that we make polluters pay? Is this Canada or the Kremlin? I've been very openly criticizing the Conservatives for their short-sighted 'economy versus the environment' stance for years now. But I never expected them to lash out at me as an individual citizen because we live in a democratic country where free expression is protected under the Canadian charter. When I discovered what they were secretly doing behind-the-scenes I realized I needed to dig for evidence…"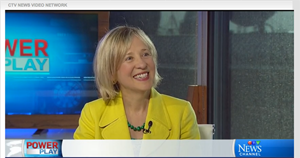 Don Martin, CTV Power Play

"It's not nice to fool with Franke James."

Don Martin interviews Franke James, Author of "Banned on the Hill' & Climate Activist on CTV's Power Play on May 30, 2013. Link

TORONTO STAR: Climate activist gets even with new book
Print headline, A6, May 27, 2013; By Raveena Aulakh

"Franke James, the artist in question, first got mad — now she is getting even. James, a Toronto-based activist with no shortage of gumption and political acumen, has turned the federal government's efforts to silence her into a new book.
"Banned on the Hill: A True Story about Dirty Oil and Government Censorship was released last week and tells the story of how Canadian bureaucrats withdrew support for James because her views on climate change didn't match those held by the Harper government. She has used access to information requests and visual essays to highlight how the Conservatives withdrew funding for the European art tour because, she writes, they didn't like that she believes Canada is failing to act on climate change. "As a Canadian citizen, to know that the government is interfering in private business is really shocking. It's undemocratic," said James. "If art has to agree with government policy, then art is government propaganda."

GRIST MAGAZINE: Artful Dodger: How one anti-Keystone activist fought the blacklist – A Franke discussion:
"Canadian artist Franke James knows how to convey gloomy information without being a downer. She takes a relentlessly cheerful, self-deprecating approach to issues too often screamed about by scolds and trolls. (It's an approach we here at Grist admire.) Her illustrated essays call out individuals, corporations, and governments for their inadequate responses to environmental threats, but in an unfailingly good-natured way more likely to make you grin than grimace. Though her art reaches a wide audience, James is no subversive revolutionary; she herself says, "I don't like to get in trouble for what I do." So it's hard to believe the Canadian government would be keeping its eye on her, much less interfering with her work."

RED EYE RADIO: Artist Franke James on how her work came to clash with the Harper government's message of Tar Sands development.

VANCOUVER OBSERVER: Deep pocket PR vs. artist Franke James: the fight's on
By Andrea Bennett "If James' recent interview with the Guardian is any indication, it seems Harper's communication strategy has achieved the level of international notoriety, the apparent 'the stuff of legend'… The attempt to silence Franke James has, instead, ensured that both her work and her message are recognized around the world."

OTTAWA CITIZEN: Toronto artist Franke James says Harper government monitored her climate change artwork By Mike de Souza

"More than two dozen senior officials and diplomats in Prime Minister Stephen Harper's Conservative government monitored information about a Toronto artist over her criticism of the oil and gas industry's environmental performance. This behind the scenes reaction was described in passages from more than 2,000 internal federal emails and other records, featured in a new book – Banned on the Hill – released this month by the artist and environmental activist, Franke James.

"This is a small fraction of all the people who've been monitoring my file and this is ridiculous," said James in an interview. "It's simply by disagreeing with them that I made it on to their list."

GLOBE AND MAIL: Conservative attacks are nothing but bullying
By Gerald Caplan

"Ms. Casault could have a great class on government bullying by introducing her kids to the shocking saga of Franke James. Ms. James is an artist/author/environmental activist. Her work is great fun for kids of all ages and they can Google her easily. Two years ago, she was supposed to have her work exhibited in 20 European cities. But the local NGO that was sponsoring her was bullied and intimidated so badly by Canadian officials that it pulled out and the entire show was canceled. Her terrible crime? As a spokesperson for our government candidly explained, Ms. James' show was about climate change and her opinions were contrary to those of the government. That was it. Here's the big message that all kids better learn if they're to survive in a bullying culture. With the rarest exception, Stephen Harper and his minions never ever admit they're wrong. Whatever they do is always honorable, whatever opponents do is always dishonorable. Even, repeatedly, smack in the middle of the entire WrightDuffyGate scandal, led by the Prime Minister himself boasting to his caucus that no government has ever been more accountable than his."

HUFFINGTON POST CANADA The story of Franke James and the art of activism
By Kevin Grandia

"Franke James is doing what every Canadian is taught from an early age: to stand up and fight for what you believe is right. Franke has turned her art, her story and her activism into a visually stunning book, Banned on the Hill: a True Story about Dirty Oil and Government Censorship, and on Monday her book got international attention with a feature in UK's Guardian media outlet. The attention is well deserved. Her art is very cool, and no doubt the success of her new book will rekindle the emotions that her state-censored European exhibit elicited from the ruling Conservative Party."

GUARDIAN UK: Artist finds inspiration in Canadian government's attempt to silence her – by Suzanne Goldenberg, US environment correspondent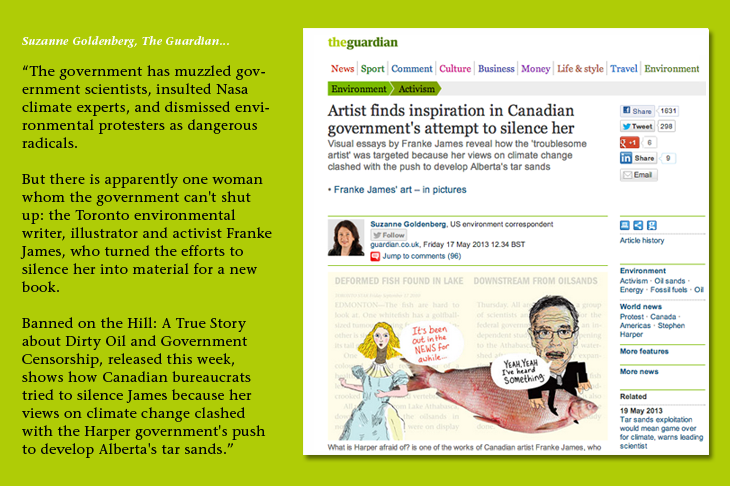 "Visual essays by Franke James reveal how the 'troublesome artist' was targeted because her views on climate change clashed with the push to develop Alberta's tar sands."
"Canada, under the government of Stephen Harper, has exhibited little patience for dissent. The government has muzzled government scientists, insulted Nasa climate experts, and dismissed environmental protesters as dangerous radicals.
"But there is apparently one woman whom the government can't shut up: the Toronto environmental writer, illustrator and activist Franke James, who turned the efforts to silence her into material for a new book. Banned on the Hill: A True Story about Dirty Oil and Government Censorship, released this week, shows how Canadian bureaucrats tried to silence James because her views on climate change clashed with the Harper government's push to develop Alberta's tar sands. The story is told through visual essays as well as official emails obtained by James, in which government bureaucrats discuss the troublesome artist and her work." Link
AMAZON Review: 5.0 stars "The book is gorgeous and defiant" June 6, 2013
By Dan Murphy
"What happens when a government yanks cultural funding in order to muzzle an artist who is "off message" on Canada's tarsands? If the artist is Franke James, you get one beautiful, colourful, well-documented and angry book that takes us from the offending art bound for Europe to the government e-mails that blacklisted it — to the spirited push-back by artists and civil libertarians outraged over the censorship. Documenting the episode and its aftermath like a graphic novel, the book is gorgeous and defiant. And it's a tidy lesson for government: When you try to shut up an artist, the artist might just get a whole lot louder. A great read."
Speaking Event – Canadian Journalists for Free Expression: Presented by CJFE in partnership with the Canadian Commission for UNESCO. Event description. [Live Blog]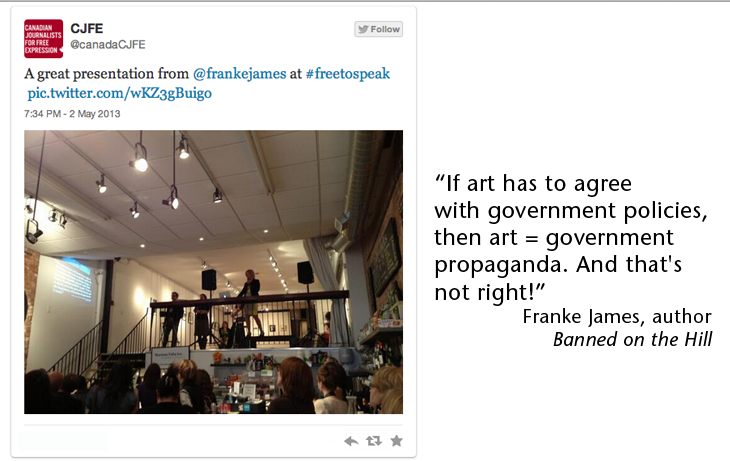 On May 2, 2013, CJFE launched the publication of its annual Review of Free Expression in Canada with "a salon-style conversation focusing on this hard won and frequently challenged Charter right." The evening honoured World Press Freedom Day on May 3. Franke James spoke about free expression and presented excerpts from her new book, "Banned on the Hill". See the live blog from the event
Canada's Unsettling Climate: An Interview with Franke James by Dave Heidebrecht
"In a free and open society, individuals should expect to be able to voice their views and opinions openly, without fear of censure or punishment. Living in the relative comfort of a parliamentary democracy such as Canada, most of us believe that though we may not always agree with the ideologies of the party in power, we still have the right to freely share our views on issues that have an impact on our lives…" Link
Freedom to Read 2013: Return of the Blacklist by Charles Monpetit.
"The problem wasn't the loss of a token government grant, wrote [Franke James] in her blog. The deeper issue was tolerance of dissent in a democracy: "I thought the Canadian embassies were there to help all Canadians… The government should not be telling anyone not to exhibit my art, just because I disagree with unethical oil."" Link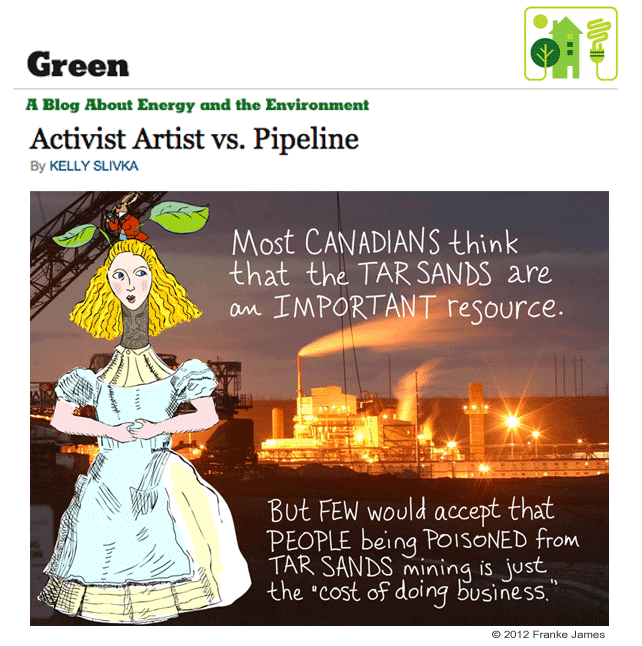 NY Times Green writes about Franke James' essay in "Activist Artist vs. Pipeline"
2012
ForestEthics Interviews Franke James on Art & Political Activism. "Art and political activism are the absolute perfect marriage. There's a long history of art being used to help further social causes — women winning the right to vote, anti-war demonstrations, Earth Day — I fit right into that groove, which is neat. It's also fun to realize what sets artists apart from scientists and journalists. We can weave symbols, facts, opinions, thoughts, emotion and color all together to raise awareness and inspire action. Sometimes I think that artists are like ad agencies for the planet."
Canzine Toronto: Chill Against Political Dissent in Art
Franke James is on the panel to discuss "Chill Against Political Dissent in Art". As the conservative government threatens art grants and rejects funding for artistic projects and centres that support projects it sees as anti-government or "glorify[ing] terrorism," are artists and art centres afraid to create controversial art for fear of losing funding? Our panelists will discuss the perceptions and realities surrounding this topic. Link
Kingston Arts Council: "Censorship and the Public Display of Art", featuring keynote speaker Franke James, author, activist and artist, who will join other local arts experts for this important panel discussion at the Central Public Library on Sunday Sept 30th 2pm. Panel questions will range from: Franke James' experience with censorship of her art; Kingston's creation of a Public Art Policy; and how we (artists, curators, members of the public), can advocate for freedom of artistic expression. Audience members will be given the opportunity to speak and ask questions of the panel speakers. Link
Corporate Knights 'Ending the Battle over Bitumen': Franke James interviews people from 4 stakeholder groups (oil, environment, local community, and Aboriginal) and asks, "Is it time for Canada to create a stewardship council for the oil sands?" [Republished on FrankeJames.com]
The Toronto Quarterly Interviews Franke James 'Banned on the Hill' [link]
CARFAC Ontario interviews artist Franke James about her blacklisting by the Canadian Govt DISPATCH August, 2012: Mariam Nader asks: "So when this whole issue came to light about your proposed European tour, you obviously weren't going to hold your tongue again." Franke James responds, "Exactly. I just thought to myself, there is no way I'm going to keep my mouth shut. I'm going to make as big of a noise as I possibly can about this." [link]
Yahoo Canada Politics: Environmental groups chide Harper government for taking credit for emission reductions
Environmental activist Franke James hopes Canadians aren't fooled by Kent's statements. "I think the average Canadian hearing this news will [cheer] and think that progress has been made by the Harper government. But they shouldn't be. In reality the claim that we're halfway to our 2020 emissions target is accounting smoke and mirrors," she told Yahoo! Canada News. "The big elephant in the room is that the oil sands are still Canada's fastest growing source of greenhouse gases. The oil sands are expected to grow rapidly over the next eight years — effectively undoing carbon cuts made in other sectors. Canada could, and should, be doing so much more. Instead of being leaders, we are laggards." [link]
CityTV's: Electric Playground interviews essayist Franke James about "What is Harper afraid of?"
"Many Canadians are not aware of the fundamental changes that the Harper Government is making to environmental policies in order to facilitate big oil's development. It is putting our air and water and land at risk." [link]
Franke James' post: Enbridge Spin Doctor Snarls about "Dirty Oil" Essay
What happened when a "somebody" in the Oil and Gas industry dropped by… [link]
Fort McMurray Today
June 19, 2012: Anti-Gateway comic gathering steam
"A comic strip urging the Canadian government to halt development of Enbridge's Northern Gateway pipeline has gained praise from thousands of online followers, inspiring nearly 6,800 viewers [now 7,156] to sign and send a letter — located at the bottom of the comic strip — protesting Canada's current environmental oversight laws to their respective Members of Parliament. Titled "What is Harper Afraid Of?" Toronto-based artist and environmental activist Franke James poses a series of questions regarding the proposed pipeline's risks to the environment, as well as local residents and aboriginal communities." [link]
New York Times Green
June 19, 2012: Activist Artist vs. Pipeline
"An illustrated article that takes a leaf from "Alice in Wonderland" has gained something of an online following, prompting thousands of people to urge the Canadian government to halt development of the Northern Gateway oil pipeline. In this "visual essay," posted by the Canadian activist Franke James at her Web site, Alice poses a series of questions about the pipeline's environmental risks to the Canadian prime minister, Stephen Harper, and his minister of natural resources, Joe Oliver, in brightly illustrated cartoon-like frames." [link]
Vancouver Observer
June 13, 2012: Harper government targeted artist for her green conscience, internal documents reveal
"Franke James, a Canadian artist and environmental advocate blacklisted by the Harper government, has obtained internal documents indicating Canadian officials worked behind the scenes to discredit her work. An internal Department of Foreign Affairs and International Trade (DFAIT) media monitoring report from July 2011 lists James as "an inconvenient artist" ("une artiste qui dérange"), the headline of an article in La Presse. The document was part of the 1,500 pages of internal documents James obtained through Access to Information requests since August 2011." [link]
Dogwood Initiative
Guest Blog: Franke James Asks "What's Harper Afraid Of?"
"Canadian Artist Franke James Calls Stephen Harper And Joe Oliver Out In This Hard-Hitting Visual Essay. [link]
PEN Canada
The Politics of Charity: "No Advocacy? No Progress"
Franke James writes "In the fight over social policies, most charities are in the corner of the defenseless, impoverished and vulnerable. Thinking specifically of the environment – how much more defenseless can you get than air, water and wilderness? Who is going to stand up to protect Canada's natural resources from destructive exploitation if environmental charities cannot?" [Also on Franke's site]
(more…)