What Powerful Tool Can We Use to Fight Climate Change?
by Franke James
"The battle is getting desperate, the odds long, so it's time to pull out a big tool in the fight against global warming: ART." Bill McKibben, 350.org.
Planetary Artshow for eARTh
This week, 350.org, launched 350 eARTh, a planetary artshow, so mammoth it's being photographed by space satellites. In more than a dozen places around the globe, artist's drawings were brought to life by thousands of people, on snowfields, desert sands, city parks, or the waters of tropical lagoons. In New Delhi, India, 3,000 students and teachers used the metaphor of an elephant to ask world leaders to not ignore the "elephant in the room" — climate change.
Now they are inviting everyone (including you) to join in…
Submit your own Art. Use your creativity to convey the urgency of climate change…
Let's help World Leaders see the Big Picture.
Art is a big tool in the fight against climate change. It is the heart of persuasion. It has been central to every modern social movement – because it infiltrates our beings, changes attitudes, and inspires action. When we FEEL it, we want to DO it. 350 eARTh is calling on people to use their most powerful skill—their creativity—to convey the urgency of climate change — and what the number 350 means for our planet.
For 350 eARTh, our challenge is to paint pictures that will help world leaders "see" what 350 means. Can you draw a picture that will help the leaders see how you feel about climate change — and why getting back to the safe zone of 350ppm is critical to life on earth?
Six Tools for Climate Change Art
To help you create your own original climate change art, let me share with you my Six Tools for Climate Change Art. I developed them in 2007. I was invited to speak at The McMichael Art Gallery because they wanted students to make their own climate change art. I figured they wouldn't understand what I do in my visual essays, unless I showed them the Six Tools I use… Since then, I've seen many, many people (who claim to be non-artists…) make spectacular artwork that they are proud of. It is very exciting to witness! (Watch short video clips of students talking about their art.)
Click on the links below to see examples of the Six Tools in action, and learn how you can use them for your artwork:

Here are a few examples of my art:
The CO2 Toaster: showing rising CO2 in the atmosphere.
CO2 in the atmosphere is now over 387ppm — and going up and up. Scientists tell us we need to get back down to the safe zone (350) or we'll reach an irreversible tipping point. Usually scientists show rising CO2 in a graph. But for me, graphs are boring… a metaphor is a stickier way to remember the problem. The inspiration for this was a simple thought: We are toasting the planet.
The animation above pulls the latest monthly NOAA data for atmospheric CO2 from the Mauna Loa Observatory in the United States. The widget can be added to any website to help people keep track of rising CO2. It was recently featured in a Science-Art exhibit.
Is cuddly Canada the Dirty Old Man of the Climate World?
Last December, the Guardian wrote this about Canada, "In stark contrast to its cuddly international image, Canada is the dirty old man of the climate world – missing its Kyoto emissions reduction target by a country mile (by 2007, it was 34% above its target) and showing no signs of reigning in its profligacy." The Guardian's colorful phrase inspired me to create the illustration above. Canada went on to snag the Colossal Fossil Award, for the third year in a row, as the most obstructive country impeding climate change policy.
Unfortunately, my country, Canada has continued living up to its "dirty old man" reputation. In a surprise vote, the Canadian Senate has just defeated the Climate Change Accountability Act (Bill C-311). This is a major blow to democracy, as Bill C-311 had previously passed in the (elected) House of Commons, and the Senate is unelected (filled with people handpicked by the Prime Minister). Fat Cat Canada continues to defend its right to pollute our shared atmosphere.
What Can One Person Do, When Billions are Frying the Planet?
Despite lack of action at the Federal level on climate action, municipalities are actively planning mitigation and adaptation strategies. The illustration of the planet being fried is from my most recent visual essay, "What Can One Person Do, When Billions are Frying the Planet?"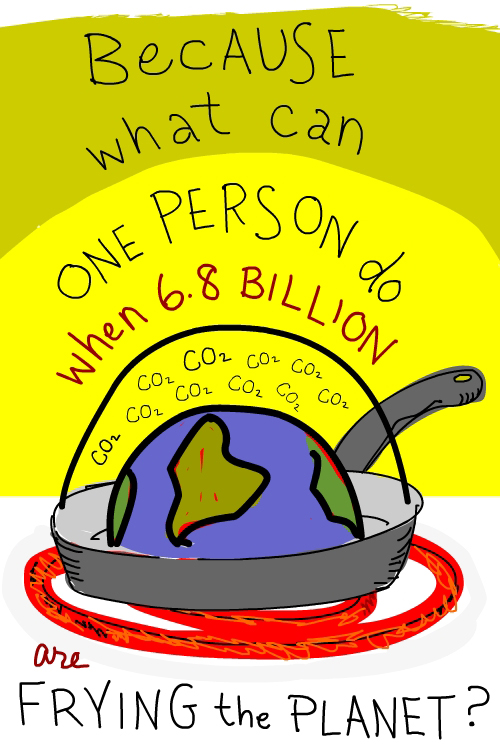 Ending the Climate War:
The illustration below is from Ending the Climate War, which talks about the BP oil disaster in the Gulf of Mexico, and the climate bill in Washington.
Copyright 2007-2016 Franke James
Related posts:
Six Tools for Climate Change Art
What Can One Person Do, When 6.8 Billion are Frying the Planet?
Ending the Climate War
Fat Cat Canada's Giant Litter Box
Visual Essays
Franke James' Green Conscience Workshops