February 2013 – Toronto Galleries: Artist Malgorzata Wolak Dault On What Humans Can Learn From Cows
by Franke James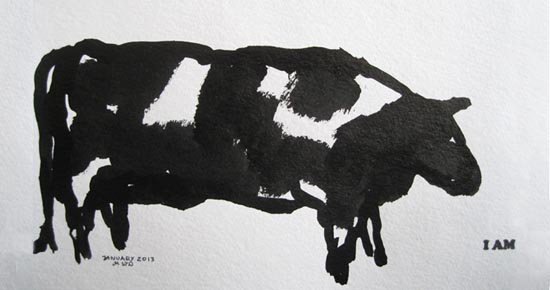 February 1, 2013 – What's your relationship to grazing cows? Are they just something to point out to the kids as you speed by on the highway? Or perhaps you look at them as a good source of protein to eat or drink? Will the familiar sight of cows grazing freely under the sky be a rarity for future generations as urban cities sprawl and factory farming grows?
Malgorzata Wolak Dault's drawings of cows (on exhibition until February 24th at INDEXG, Toronto) got me thinking about bovine creatures in peaceful and profound ways.
You can hear Malgorzata talk about the meaning of her cow drawings in this short video I took at her opening last weekend. It was the first time I met the artist, and as I listened to her talk about her work I thought — I have got to capture this — it gives such insight and meaning to her cow drawings! All of a sudden I was seeing the placid cows as "rocks in the landscape" with echoes of Henry Moore… (Malgorzata is standing in front of my favorite cow which I splurged for that day.)
I AM: COW DRAWINGS BY MALGORZATA WOLAK DAULT
Artist's Statement
I have always loved cows and felt that they belonged only to the fields of farms and
meadows.

Their gentle passiveness is part of the pastoral landscape.

Under the open sky, within the changing seasons, cows look almost meditative, unaltered,
as if they were living boulders, always there.

Given their presence for centuries in the realms of art, they have become living icons of
our creative consciousnesses.

In our technologically-oriented culture, where the life and death of farm animals has
become all-pervasive and fiercely mechanized, these gentle animals deserve more
celebration than ever before.

The phrase "I Am" on my Cow Drawings underscores my repeated acknowledgement of
the dignity and moving presence of these noble beings.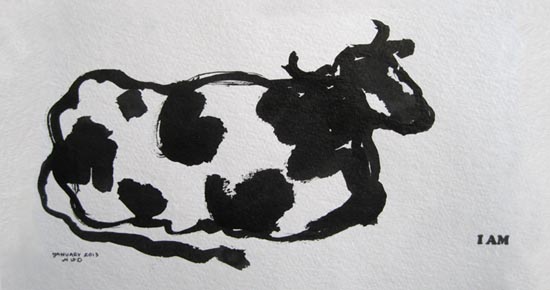 If you're in Toronto, drop by to see the show live until February 24/13. The INDEXG gallery is at 50 Gladstone, just off Queen Street. Gallery hours: Wednesday to Sunday, 1-6 pm. Tel: 416.535.6957